KS95.1 MISSOURI STATE FAIR CONCERT TICKET PRESALE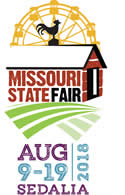 Starting at 9 a.m., June 22, KS95.1 listeners can purchase tickets to all Missouri State Fair Concerts through Ticketmaster online or by phone, using this link:
https://www.ticketmaster.com/promo/yqfr2n
Password: KTKS
Ticket presale will end at 4 p.m. Monday, June 25
. General Public ticket sales starts at 9 a.m., Tuesday, June 26, 2018 through Ticketmaster online or by phone.
GENERAL PRESALE INFORMATION:
Ticket Limit: 10 ticket limit per concert purchase per credit card billing address thru 9 am, June 29
Ticket Presale Pick Up: Tickets sold through the presale will only be available by pick up at the Missouri State Fair Box Office – they will not be mailed.
MISSOURI STATE FAIR PEPSI GRANDSTAND CONCERTS
AUGUST 9
MONTGOMERY GENTRY AND WHISKEY MYERS
AUGUST 10
ROCK OF THE SEVENTIES – FOGHAT, ATLANTA RHYTHM SECTION, FIREFALL AND PAT TRAVERS BAND
AUGUST 11
HANK WILLIAMS, JR. AND FRANK FOSTER
AUGUST 14
ROOTS AND BOOTS TOUR – SAMMY KERSHAW, AARON TIPPIN AND COLLIN RAYE
AUGUST 15
SOUTHERN UPRISING TOUR: A SOUTHERN ROCK REVIVAL WITH TRAVIS TRITT, THE CHARLIE DANIELS BAND, THE MARSHALL TUCKER BAND AND THE OUTLAWS
AUGUST 16
CASTING CROWNS AND ZACH WILLIAMS
AUGUST 17
AARON WATSON AND TIM MONTANA
AUGUST 18
COLE SWINDELL AND RAELYNN